For the 'youth of the church.'
It's our intention to do more than build a standard 'youth group' ministry. We want to lead the next generation to a faith that lasts. That means being more than a club or another extra curricular activity that only helps teenagers kill time until they become an adult. So, to do that we've brought a whole new approach to youth ministry to our community. Our unique strategy is entirely focused on giving teenagers a chance to begin, develop and maintain a personnel commitment with Christ. Below, you'll find more about our strategy and how to connect the middle school and high school students in your life to Journey Youth.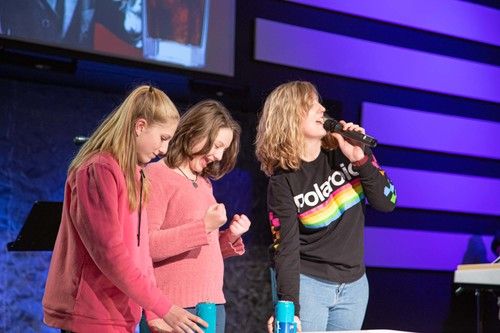 Follow JY on social media...
First Wednesday of every month. • 700-830pm
'Ignite' is what we call our once a month full-service experience. We pull out all the stops to give teens a place that's just for them that is full of energy and truth; two things every teenager craves. It's a great way to get to know our youth ministry team and what we're all about.

MUSIC - WORSHIP - MESSAGE - GAMES - PRIZES - GIVEAWAYS - FOOD
The remaining Wednesdays of each month. • 700-830P
Our home groups are designed to give students a place to connect with Gods Word and with each other. These laid back, stress free environments will be the perfect place for your student to grow as both a person and a Christ-follower.
Each group is hosted by a qualified member of our team in a home that has been specifically chosen for these groups.
Find the home group for your student below...

WORSHIP - DEVO - DISCUSSION - CONNECTION
Join any one of our three Home Groups in these host homes...
Pastor Jake & Nancy Lawrence
688 Springfield Dr, Wentzville
Our annual summer camp is an experience no teenager will want to miss. It's a chance to compete in an awesome array of games and activities, make new and lasting friendships, learn from some amazing pastors and speakers, worship with a dynamic music team and ultimately grow and solidify their relationship with God.
Get more info about all things Journey Youth from
Pastor Jake Lawrence